Bozanian McGregor
llc
For the accomplished attorneys at Bozanian McGregor llc in Paramus, as for most of us, family relationships are central. For many years, we have dedicated ourselves to helping our New Jersey clients navigate the complex waters of divorce, family disputes, prenuptial agreements, domestic violence, child protection, guardianship, and estate litigation.
Why Bozanian McGregor Is the Right Choice for You
We have extensive experience in all our practice areas and a track record of successful outcomes. As a boutique law firm, we offer legal representation tailored to your particular needs and pride ourselves on providing the personal attention you are entitled to receive.
We are an inclusive law firm, dealing with people from all types of racial, economic, and ethnic backgrounds, including those of moderate incomes and high net worth, and known to be welcoming to LGBTQ+ clients. Contact us now and let us take over the legal and logistical matters that are adding to your stress.
Our Broad Range of Practice Areas in New Jersey
Unlike some family law attorneys, our legal team handles estate litigation and extremely complex cases of domestic violence and guardianship as well.
Divorce and Family Law
Too many families have to deal with the complex financial and emotional issues of divorce. If you are coping with the burden of negotiating any or all of the following, our lawyers are here to help:
Fair distribution of marital assets
Child custody
Child and/or spousal support (alimony)
Parenting time
Whichever stage of divorce you are facing — from considering divorce to modifying child support — we will supply the advice and advocacy you require. If you are coping with other family law problems, we will support you and fight for your rights and the best interests of you and your children.
Prenuptial and Mid-Marriage Agreements
In marriages of high net worth, agreements that clarify which of the couple's assets will count as marital assets and which will be considered individual assets can avoid a great deal of pain and conflict if there is ever a divorce. Despite promises and good intentions, divorce is so common, that it makes sense to take the precaution of creating a document to protect the interests of both parties in case of a split.
More and more couples are recognizing that a prenuptial or mid-marriage agreement is not a foreshadowing of trouble, but rather a kind of insurance in case things unexpectedly go awry. Our family law attorneys know precisely how to negotiate and prepare this document so it is a routine matter, not a harbinger of marital strife.
Mediation/Arbitration
At Bozanian McGregor, we are well aware of the benefits of mediation and arbitration, especially when it comes to settling familial disputes. ‍Mediation is a type of alternative dispute resolution (ADR) that provides a pathway to a reasonable settlement without the expense, delays, and emotional wear and tear of a courtroom trial.
In both mediation and arbitration, a neutral third party assists the couple in arriving at a workable resolution. The difference between the two processes is that in arbitration the objective third party makes the final decision (which is usually legally binding), whereas in mediation the third party helps the couple find their own points of agreement. Mediation or arbitration can be used to resolve all matters related to divorce, including division of property, child custody, parenting time, and spousal support arrangements.
Domestic Violence and the Division of
Child Protection and Permanency (DCPP)
Divorce is difficult, particularly when there are children involved. Nowhere is divorce more challenging and painful than when domestic violence is part of the problem. The compassionate lawyers at Bozanian McGregor will intervene to protect you and your child, whether that means getting you an order of protection, helping you find a safe place to live, or fighting against false charges of domestic violence.
We know the protection the DCPP provides for parents struggling with the terrifying problems associated with domestic violence. You can trust us to support you legally and emotionally as we guide you through.
Estate Litigation
When family disputes occur after a death in the family, anger and strained relationships add to your grief. This is the time to turn to our empathic estate litigation attorneys.
We are well-prepared to help you whether the issue is a contested will or trust or a fiduciary matter pertaining to unpaid medical bills, bank loans, rent money, credit card debt, or personal loans.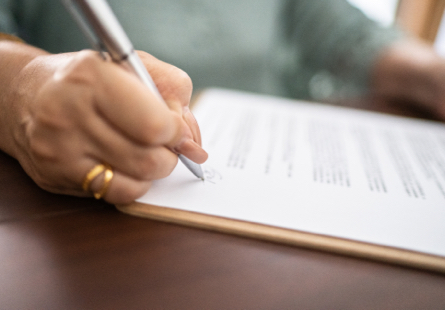 Guardianship
Our firm has handled a great many guardianship cases, both for minors and for incapacitated adults. When minors require a guardian it may be because they have been orphaned or their parents are abusive, addicted to substances,  incapacitated, or incarcerated. In some cases, our guardianship attorneys have been appointed as guardians ad litem to represent minor children in court or as guardians for incapacitated adults.  In others, we have represented clients involved in complex contested guardianships.
LGBTQ+ Family Law Matters
Our family law attorneys are well-versed in the special problems gay individuals or couples may face in our not-altogether-inclusive society. When you come to us, you will be assured not only of fair treatment and supportive legal representation but of a welcoming atmosphere that makes us responsive to your situation and your needs.
We have the legal knowledge and skill set to defend your rights and the rights of your children when it comes to divorce, child custody, child and spousal support, and parenting time or questions surrounding estate or guardianship litigation.
Contact Our Experienced, Empathic Attorneys Today
"*" indicates required fields
No matter whether you are confronted by divorce for the first time or how many times your family has been blended, we have the agility to protect your rights and the rights of your loved ones. Contact us now to see how it feels to be treated with the respect and sensitivity you deserve.